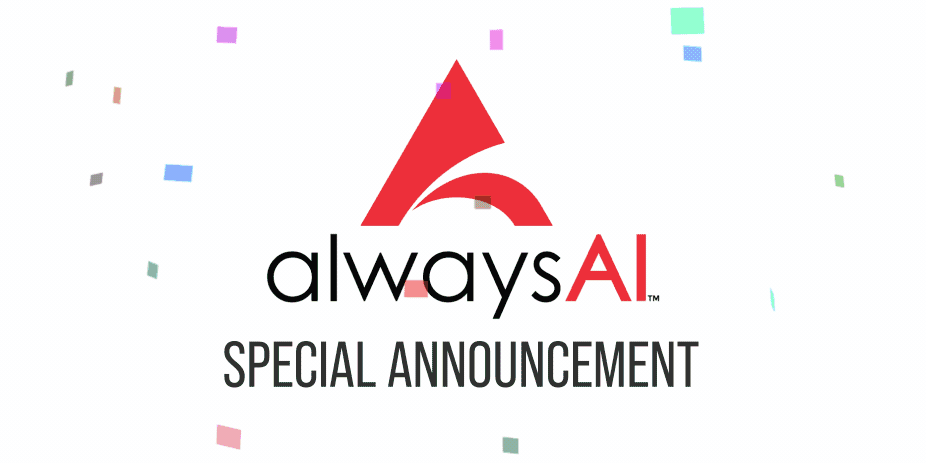 Raising money and growing a startup during a global pandemic has certainly been a challenging and novel experience. But making real progress during this unprecedented time is somehow more rewarding – there was no playbook, no 'best practice' to follow for 2020.
And that is why I am so proud to announce that we have now raised a total of over $9M and expanded our investor base to include BlueRun Ventures, Longley Capital, Validus Growth Investors and several notable early-stage angels. This is an ideal amount of money to drive alwaysAI to great success.
We began this journey in late 2018 with a simple view and goal:
That "vision" would be a major part of the technology stack going forward and would transform our businesses and our lives. Put another way: we could not see a future where humanity's most powerful sense – vision – did not get harnessed and automated to unleash a huge array of new applications and consumer value.
That building these computer vision (CV) apps and getting them to run on the edge – where work and life happens – was simply too difficult and costly. The future, and the value inherent in that future, seemed trapped and needed to be more accessible to a broad base of developers.
So, we created alwaysAI to provide devs a powerful platform – a complete workflow – to help them (1) select, train and re-train AI/CV models; (2) engage our low-code APIs to easily build and customize CV applications for their exact needs; and (3) to run these apps on the edge across a broad range of IoT devices.
Thousands of developers have now joined us on this journey, creating a wide variety of CV applications, from autonomous boats to retail occupancy counters to smart city monitors. Every day we see new ideas coded and put into production using the alwaysAI platform – this is an exciting time for our developers, enterprise customers and partners!
And now we have the right amount of capital to push our vision forward; specifically:
To build a powerful sales and marketing organization – folks passionate about CV and pushing to get the platform into the hands of folks that need it.
To rapidly innovate and provide CV developers the tools they need, including more powerful model training and 'edge analytics' giving real-time insights.
To partner with great companies across the AI ecosystem to compile vertical solutions and greater GTM access.
This is just the start for alwaysAI. I want to thank our growing developer community for joining our "vision" – and we look forward to a great 2021.