At alwaysAI, we love to engage with our growing developer community and highlight their cool projects. Most recently, two of our users created an alwaysAI Discord bot. This bot, developed by Nathan Wise and Valentine W. allows you to do two main things right from our Discord community:
Display documentation regarding models from the alwaysAI model catalog

Run those models against images pasted right into a Discord message
This makes it much easier for users in our community to get information about the API from our documentation and the alwaysAI model catalog from Discord. Users can even paste an image directly into Discord in order to test out a certain model on that image. This is a huge time saver, enabling users to try out models before using them in their Computer Vision applications.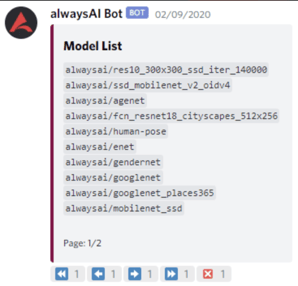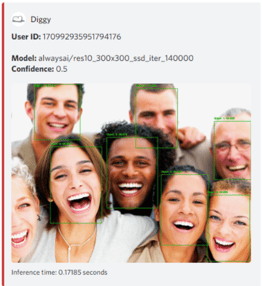 Note: Discord is an instant messaging platform that we use to engage with our community of users. On Discord, our users can connect with our engineers and developer advocates as well as other community members to ask questions and troubleshoot.
About our users
Nathan and Valentine are both 17 year old students from the UK. They are currently studying Computer Science and Math. They were looking for ways to implement AI as part of some school projects.
They found out about alwaysAI on reddit, while searching for ways to learn about building different types of AI applications such as Computer Vision. Instead of figuring out how to implement Computer Vision using OpenCV, they decided to learn to use alwaysAI because it sounded easier.
At this point, they had no prior hands-on experience with AI or Computer Vision. They had heard of libraries like OpenCV and TensorFlow before and had imagined that building Computer Vision applications would be much more difficult than it was with alwaysAI.
About the Discord Bot they created for alwaysAI:
After signing up for alwaysAI, the first thing they did was join the alwaysAI Discord channel. They were both already active Discord users, in fact they met each other on the Discord.py server. They both had previous experience with creating Discord bots. They decided together they wanted to work on a Discord bot for alwaysAI, and they reached out to our developer advocate Jason Koo to get their project going. They had both used Discord bots before and thought that it would be beneficial for alwaysAI to have one to make searching and trying out models more efficient. Their alwaysAI bot was partly inspired by a bot in the discord.py server, which has the ability to query the discord.py API, among other functions.
The alwaysAI Experience:
Nathan and Valentine expected implementing machine vision to be extremely difficult. They were surprised and impressed at how easy it was with alwaysAI and its simple API.
Especially since this was the first time either of them had done anything with deep learning computer vision. They found the starter apps helpful, which they leveraged some code from.
Human Pose Estimation and Semantic Segmentation were particularly interesting to Nathan and Valentine.
"
I think for being such a new platform, it's off to a great start and has a strong community of like-minded programmers and highly-motivated people! I'm excited to see where it'll go in the future" Valentine told us.
We love helping students learn about AI and Computer Vision
We are happy that our platform played a role in forming Nathan's and Valentine's first experiences with Deep Learning Computer Vision. They were happy to be able to apply it in a real-world setting and not just learn about it in theory.
They are both interested in pursuing software engineering and programming and are exploring different areas of that space.
AI and computer vision is something they are both interested in pursuing further. They see a lot of areas of AI that are excelling, and believe that machine vision will play an important part in AI overall. Several pieces of AI need to work together to achieve important tasks, such as with robotics, and they believe that computer vision will be an essential component of that. AI is like an organism, it consists of several components working together like cells in an organism.
We wish these two well and look forward to seeing more alwaysAI projects from them and our other users!
Don't forget to check out the Github repo here, and try out the alwaysAI Discord Bot for yourself!
You can get in touch with Nathan and Valentine on Discord!
Valentine: @diggy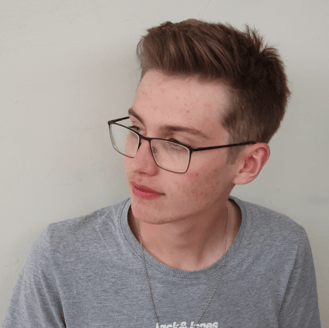 Nathan: @TestedBubble