As enterprises increasingly rely on infrastructure at the edge-cloud, they need technology that delivers efficient, powerful performance. alwaysAI and Qualcomm's AI Cloud 100 deliver.
The Qualcomm AI Cloud 100 (AIC 100) accelerator takes alwaysAI's EdgeIQ computer vision software to the next generation of inferencing performance. The AIC 100, equipped with EdgeIQ, can process up to 24 high-definition camera streams at 400 Tera operations per second (TOPS) for INT8 precision models and 200 TOPS for FP16 precision.
Like GPU-based competitors, the AIC 100 allows users to spread the model architecture across many inferencing cores. However, the AIC 100 also allows users to allocate multiple models to different inferencing cores, isolating their execution from each other.
The alwaysAI platform provides all the software enterprises need to develop, deploy and manage cutting-edge computer vision applications on Qualcomm's AIC 100 hardware.
For enterprises, this means faster, more energy efficient, and more dynamic computer vision applications that detect and interpret objects, people, and events in real-time to dramatically improve operations and productivity for enterprises across industries.
Discover how alwaysAI and Qualcomm's AIC 100 can help transform your business. Schedule a call with an AI Expert.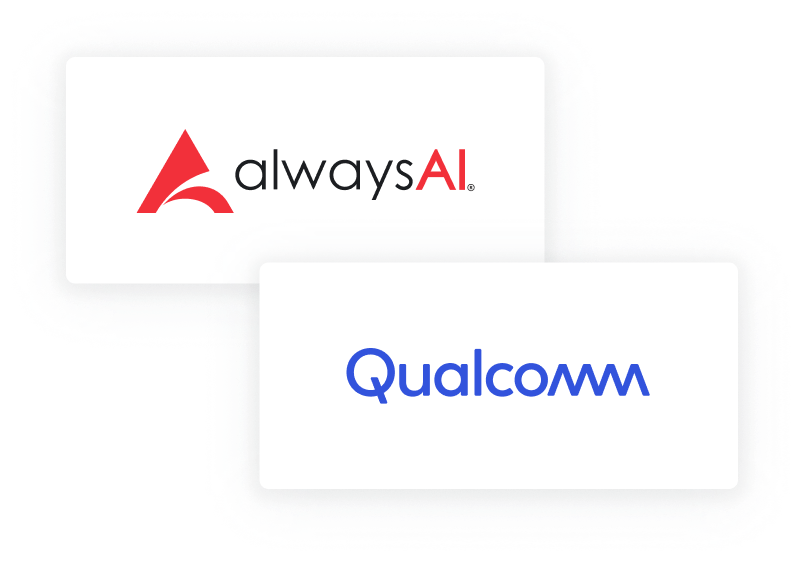 The Qualcomm AIC 100 is designed for AI inference acceleration to improve the performance and efficiency of computer vision applications. It boasts incredible energy efficiency and processing speeds to meet the needs of the most sophisticated computer vision applications across multiple devices. With features like on-device processing and local storage, businesses can ensure data privacy.
For more on the AIC 100's specification, visit their product page.
About Qualcomm
Qualcomm is enabling a world where everyone and everything can be intelligently connected. You interact with products and technologies made possible by Qualcomm every day, including 5G-enabled smartphones that double as pro-level cameras and gaming devices, smarter vehicles and cities, and the technology behind the smart, connected factories that manufactured your latest purchase. Qualcomm's powerful connectivity solutions keep you connected—even in remote areas. Qualcomm 5G and AI innovations are the power behind the connected intelligent edge. You'll find their technologies behind and inside the innovations that deliver significant value across multiple industries and to billions of people every day.
Partner with alwaysAI
Fill out the form and join our mission to improve the world with computer vision