End-to-End Platform
Computer Vision with Pose Estimation
alwaysAI is a complete development platform for creating and deploying machine learning applications with Pose Estimation. You can do this in four easy steps:

1. Choose a model or train your own
Train a custom model using our Model Training Toolkit, or select one of the pre-trained models from the Model Catalog.

2. Develop your app
Use our flexible and customizable APIs to quickly enable core computer vision services such as Object Detection, Pose Estimation, Image Classification and Semantic Segmentation.

Deploy to the Edge
Quickly prototype, test, and iterate with a variety of camera-enabled ARM-32, ARM-64, and x86 devices.

4. Real-time Analytics
Run the app and gain real-time analytics about what's happening.
Partners



Computer Vision on the Edge
Computer Vision on the Edge with alwaysAI
The alwaysAI platform helps developers unleash the power of Computer Vision on the Edge with easy-to-use Python APIs.

Why on the Edge? There are several benefits to running Computer Vision on the Edge including speed, cost, and privacy. Find out more about the benefits of running Computer Vision on the Edge here.

Why alwaysAI? Expedite Computer Vision development with alwaysAI, whether you're a beginner or experienced Python user. Getting started with alwaysAI is a breeze. First, create a project and try out one of our quick and easy starter apps - you will experience the amazing power of Computer Vision right away!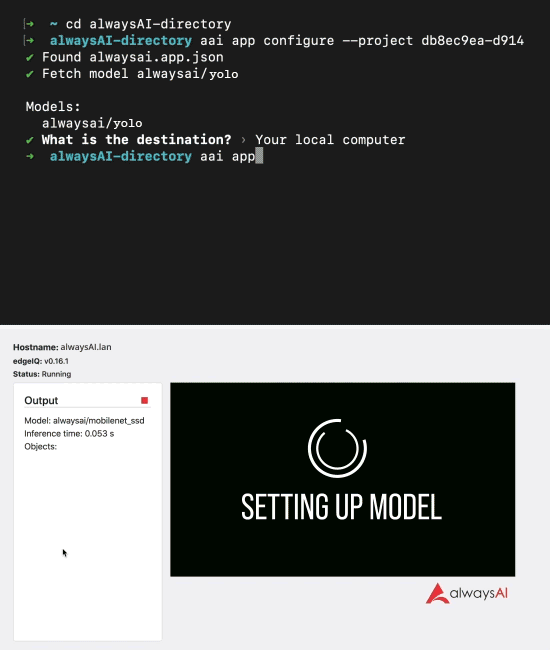 alwaysAI: The only solution making it EASY to deploy REAL-WORLD computer vision on the EDGE. All you have to do is come up with an idea and implement it...and if you work with a platform like alwaysAI, you can create solutions that are interacting with the world around you.
Marcos Barrera Seafloor Systems, Inc.