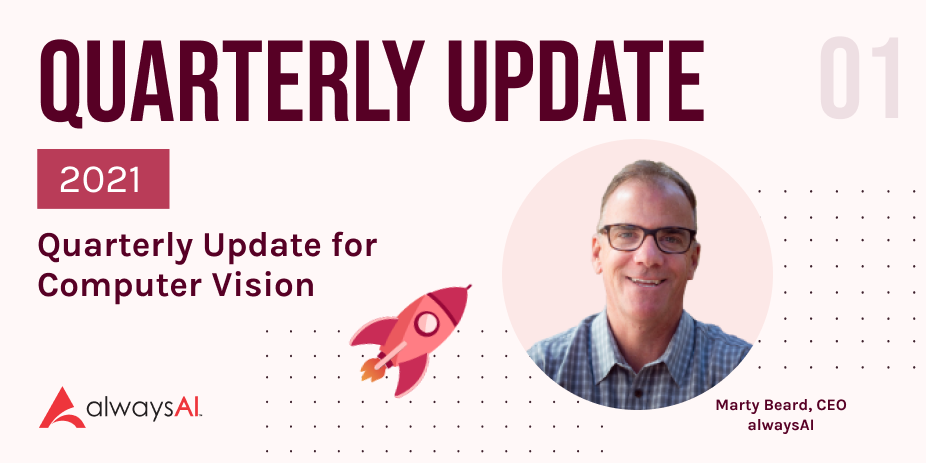 We're excited to provide our first update of 2021! First, our mission has not changed: we work every day to make Computer Vision (CV) easy and affordable for all developers. It has been an amazing journey to watch devs use our platform to build and deploy a wide variety of CV apps onto an equally diverse set of IoT devices - new value is created every day on the alwaysAI platform.
Second, some investment news: we're very pleased to announce we closed a new round of funding, and have now raised over $9M in total. Our expanded investor base, including BlueRun Ventures, Longley Capital, Validus Growth Investors and several notable early-stage angels, will allow us to push our vision forward in more innovative and aggressive ways.
Grow our product and support capabilities:
We're expanding our extensive model catalog to cover all major CV categories (object detection, pose estimation, classification, and semantic segmentation), and strengthening our Model Training Toolkit to help devs customize, re-train and re-deploy their CV models. Selecting and (continually) optimizing a model is a critical step in the CV journey.
We're also launching Production Mode, which enables developers to more easily and securely deploy their CV applications to field production on a wide variety of IoT devices. In Production Mode, applications built on the alwaysAI platform have added resiliency with auto-start and do not require manual intervention or persistent connectivity.
Importantly, we are also improving our Customer Support, and now provide companies access to a private customer portal, and the ability to talk directly to the alwaysAI team for quick and easy support as well as brainstorming on new application ideas and project plans.
Expand our partnerships:
We continue to expand our alliances across the CV ecosystem and recently announced a partnership with Eyecloud.AI and their OpenNCC edge-AI vision appliances. With this partnership we can now offer developers a complete Software + Hardware solution: the PowerPack. This offering removes one of the complexities of CV implementation - namely, what hardware should I use on the edge - thereby accelerating field deployment time-to-value. Now you can build and deploy a CV app on a camera optimized for the edge.
Offer premium subscriptions:
In addition to everything above, we've been working hard to innovate and bring advanced new features to our growing developer and enterprise base. And starting February 15th, devs can access all of these premium features and private support through new subscriptions plans:
Freemium

($0 per month): Provides access to our

Model Catalog

, core CV categories and the ability to deploy applications on development devices like a Raspberry Pi.

Basic

(starting at $49 per month): Provides a licensed user - in addition to everything available on the Freemium tier - access to our

Model Training Toolkit

, the ability to publish CV applications on to as many as 10 production devices, and private support.

Premium (starting at $149 per month): Provides licenses for up to 3 developers, the ability to publish even more applications on to as many as 35 production devices, and dedicated support with an SLA.
Enterprise: The best option for companies and partners that have unique needs - e.g., custom model development or custom API requirements, etc. We work with a wide variety of companies and are flexible with the Enterprise plans. Reach out to our sales team to find a customized solution for your needs.
Check out our Pricing Page to get more detail about our upcoming subscriptions plans, or to request a demo of the alwaysAI platform.
We are off to a great start in 2021 and look forward to working with our growing community - we can't wait to see what you build!
---
About alwaysAI
alwaysAI provides developers and enterprises a comprehensive platform for building, deploying and managing computer vision applications on IoT devices. We make computer vision come alive on the edge - where work and life happens. The alwaysAI platform offers a catalog of pre-trained models, a low-code model training toolkit, and a powerful set of APIs to help developers at all levels build and customize CV apps. alwaysAI has an easy deployment process and a state-of-the-art run-time engine to accelerate computer vision apps into production quickly, securely, and affordably.
If you haven't already registered in alwaysAI. Please do so! It's super easy to sign up just follow the link and get building and coding quickly.